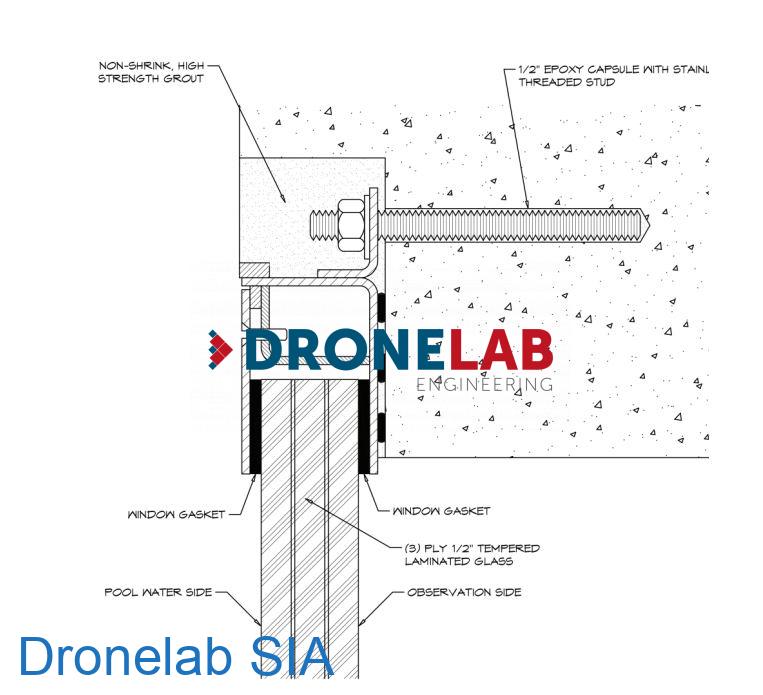 Our company uses special tempered glass for underwater windows that is produced by processing specific glass formulations under carefully controlled conditions, which removes undesirable stresses from the
glass. The resulting glass is has additional strength, resistance to thermal stress, and impact resistance.
Our fully tempered heat-treated glasses has a surface compression of 10,000 psi or more and demonstrated typical breaking stress capabilities in excess of 24,000-psi. Tempered glass is approximately four to five times as strong as annealed glass and has significant resistant to breaking and is able to resist temperature differences. It effectively resists pressure and
impact to provide a high level of safety. In the unlikely event that a layer of fully tempered glass was broken, it fractures into small, relatively harmless fragments without jagged edges or sharp shards.
The glazing in our windows is a safety glazing material that must meet ANSI Z97.1 Standard and Federal Standard CPSC 16 CFR 1201.
Tempered glass vs acrylic

In addition, our windows utilize a laminated tempered glass is a high performance extreme durability safety glass that is made by permanently laminating together pieces of transparent glass with a polyvinyl butyral (PVB) film. The process creates a glass that is transparent with high mechanical strength and resistant to impact. In the unlikely event that our window could be broken, window will keep its primary shape and visibility, and the glass broken pieces will not harm persons in contact with the window.
Plexiglas GS Cell Cast acrylic
Our company also produces windows from Cell Cast acrylic, which is a high quality domestic production acrylic rather than low quality extruded acrylic that is softer, can scratch even more easily, and may contain impurities. Acrylic is a clear plastic that resembles glass, and common brands of high-grade acrylic include Polycast, Lucite, and Plexiglas.

Our company recommends laminated tempered glass for underwater windows. While acrylic can be less expensive, it can scratch and almost any impact to an acrylic window will leave a scratch or mark, even those that would have no effect on a tempered glass window. In an aquatic environment, it is very likely that a haze of scratches will develop over time and will continue to become worse. An acrylic window does not need to be as thick to support the same water volume as a glass window and
requires a greater force to shatter. However, acrylic cannot support hold the same weight as glass.
Tempered glass
Tempered glass tends to survive punishing environments far better than acrylic. Glass also maintains its clarity over time and provides a near perfect image. Acrylic windows can have a wavy look to the view and may yellow with age. The durability of the seals in our glass windows are warranted for 20-years. Acrylic needs to expand and contract, which can shorten or wear out the seals holding the acrylic in the window frame. Finally, some cleaners used in a pool or aquatic environment can damage the surface of acrylic while glass is typically not affected.